May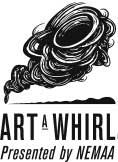 Art A Whirl
May 18th - 5:00-10:00 p.m. Saturday,
May 19th - Noon-8:00 p.m. Sunday,
May 20th - Noon-5:00 p.m.
Tour more than 50 locations throughout Northeast Minneapolis, including studio buildings, art galleries, homes, storefronts, businesses, and restaurants.
Plan your visit with NEMAA's Artist Directory and Guide, which includes information about the NEMAA artists, a map of Northeast Minneapolis and the Art-A-Whirl locations, a dining guide, and more. Pick up your free copy of the Artist Directory and Guide at the information booths during Art-A-Whirl, or at the California Building, Casket Arts Building, Keg House Arts Building,Northrup King Building, or Thorp Building in Northeast Minneapolis.
Pick up an Artist Directory and Guide or download the 2012 Art-A-Whirl map
Next Handmade Tile Association Meeting

Wednesday May 22nd

Time: 6 pm to 8 pm
Where: 1008 E Minnehaha Pkwy
Minneapolis, MN 55417
(612) 750-7821
Host: Christine Nelson Design
This is our last meeting until the fall. It is a very important meeting we hope you can attend.
Our meeting will have two sections. From 6 to 7, Christine Nelson will talk about how to work with Kitchen and Bathroom designers. Then from 7 to 8, Fashion Designers will show up and be introduced to the tile artists.
We encourage tile artists to bring samples to showcase your wares and style. The goal of this meeting is to introduce the fashion designers and start to collaborate with the tile artists.

It will also be a great way to meet other aspiring artists and build bridges through colaboration of fields. We are expecting between 12 to 20 fashion designers. We hope to match that with our members.
We want to welcome the fashion designers to our tile world and hopefully we will create a long term relationship with fashionista all over the world! See you there.
June
8th Annual Arts & Crafts Chicago Show and Sale
Saturday, June 1, 2013, 10 a.m. to 7 p.m.
Sunday, June 2, 2013, 10 a.m. to 4 p.m.
Concordia University
River Forest, Ill.
Admission: $7
Information: www.artsandcraftschicago.com or
call Eastwood Gallery 651-695-1902
The 8th Annual Arts & Crafts Chicago Show and Sale will feature furniture and accessories from and inspired by the American and English Arts & Crafts Movement. Homeowners interested in acquiring pieces and/or educating themselves about the appropriate furnishings for their turn-of-the-century bungalows and craftsman style homes should plan to attend.
July
August
August 15th
Deadline for 2012 Minnesota Tile Festival artist registration.
Silver City Clay Festival
August 2-4, 2013
www.clayfestival.com
September
September 1st
Start of 2013 Handmade Tile Association Directory Drive



Minnesota Tile Festival
12th Annual
Saturday September 21st 10 -5 pm 2013
At the American Swedish Institute
Minneapolis, MN
www.handmadetileassociation.org/MNTileFestival.htm
October
7th Annual Northwest Handmade Tile Festival
October 5th and 6th
Seattle Washington
www.artisantileNW.org
October 15th
Last day to register for 2014 Handmade Tile Association directory advertising with out $35 late fee

November
November 15th and 16th
Proofing party for 2014 Handmade Tile Association Directory
December