News
8th Annual Homes by Architects Tour
By Josh on Aug 27, 2015
Saturday, September 19 10:00 am
This annual self-guided tour showcases new and remodeled homes in the Twin Cities metropolitan area designed by AIA Minnesota architects. Discover the benefits of working with an architect on residential projects, see innovative solutions to design challenges and prepare to be inspired.
Homes on the tour are open to the public from 10:00 am to 5:00 pm on Saturday and Sunday. Tickets may be purchased in advance or at each of the tour homes. Single-home tickets and full tour tickets available. More information on the AIA website. >
---
16th Annual Twin Cities 20th Century Design Show and Sale
By Josh on Aug 27, 2015
The 16th Annual Twin Cities Arts and Crafts Show and Sale has a new name and a new look. The newly named Twin Cities 20th Century Art and Design Show "From Mission to Modern" is still the largest event in the Midwest showcasing mission furniture and accessories of the American Arts and Crafts Movement (1890 - 1920), but now will include other 20th Century movements including Art Moderne, Art Deco and Mid Century.
Saturday September 26th and Sunday September 27th 2015, Minnesota State Fairgrounds at the Progress Center Building in St. Paul, Minnesota
More information is on the Eastwood Gallery website. >
---
2015 ATNW Tile Festival
By Josh on Aug 27, 2015
Artisan Tile NW 2 0 1 5 Handmade Tile Festival
NOVEMBER 7th & 8th, Saturday 10-5, Sunday 11-3
ATNW Annual Tile Festival at Center for Urban Horticulture at University of Washington, U Village area, Seattle, WA
---
Image Transfer in Color event at Northern Clay Center
By Josh on Jul 03, 2015
Northern Clay Center's 2015 American Pottery Festival Workshop
Jason Bige Burnett: Image Transfer In Full Color
Co-sponsored by Handmade Tile Association
Thursday, September 10, 9 am – 5 pm
Students will learn an easy method of making silkscreen stencils and will practice transferring preprinted images with slip to decorate leatherhard tiles. Members $105 / Non-Members $120
More Information and Tickets >
---
Handmade Tile Association July 2015 Newsletter
By Josh on Jul 02, 2015
Click here to read the July 2015 Newsletter.
In This Issue
Best Use of Local Artisan Materials Competition
Zanesville Prize for Contemporary Ceramics
Slab rollers, Tile Press, Extruders oh My
---
Encore Post of the Month
By Josh on Jun 10, 2015
Carly Simon mosaic guitar love!
---
Encore Post for the month of May
By Josh on May 26, 2015
Clare Dohna mosaic egg.
In memory of a 12 year old girl who is now an angel...
---
Travel to England and Wales!
By Josh on May 26, 2015
From May 8-19, 2016 Arts & Crafts Tours, Inc. will be traveling England and Wales examining British tiles and ceramics of the 19th century - we hope you'll come along!
Focusing on tiles and ceramics, we will go from London where we'll visit the Victoria & Albert Museum and the Arab Hall at Leighton House, to Cardiff and visits to two castles. Then on to the mid-lands and visits which will show us the enthusiasm and confidence of the best of the 19th century reform.
For a full detail of what is organized, please download our brochure And if you've decided to join us, please send in your early registration with your fully refundable deposit.
And for those of you who can't wait to join, consider coming along on our Private Presses tour - which has only a few spaces left. Here are the full details and Registration.
---
Tile Person of the Year Winner!
By Josh on May 19, 2015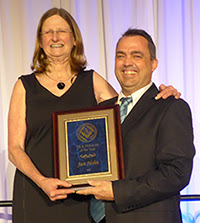 Handmade Tile Association Board Member, and amazing tile contractor, Jan Hohn was recognized nationally for her work at Coverings this past month. The National Tile Contractors Association (NTCA), the world's largest tile contractor association, recognized industry leaders at its Third Annual Awards Ceremony during Coverings 2015 at the Orange County Convention Center in Orlando, Florida.
The NTCA'S 2014 Tile Person of the Year Award was presented to Jan Hohn of Hohn & Hohn in St. Paul, Minnesota. Hohn is the third woman to receive this award during the six decades it has been presented. For more than 20 years, Hohn has worked as a one-person, high-end residential tile and stone installation company.
Congratulations Jan! We all knew you were amazing. Now the whole tile world knows it! Thank you, Eric, for your long term efforts on behalf of the tile industry!
---
Distribution, Distribution, Distribution!
By Josh on Feb 04, 2015

By now all members and advertisers of the Handmade Tile Association have received their copies of 2015 Directory. Now we need to request you hand them out!
Members can have as many directories as you want, all for free!
For those Members who are outside of MN, we will be shipping a box of directories free of charge to you. If you want more, please contact us and we will be happy to send them. We can even drop-ship them directly to a major event, as long as you will be there to show your work and hand out the directories. Thank you! Your efforts help us all.
---
First Meeting of 2015
By Josh on Feb 04, 2015
We had our first meeting of the year at Foster Willey's studio in the Northeast Minneapolis Arts District. Foster gave the HTA members a memorable tour of his studio. Wonderful large scale terra cotta tiles made using techniques of the past. Most of the work he does is in the public art arena. It is rare to see tile work done on this scale.
Attendance:
Host Foster Willey- Amy Baur, Christine Nelson, Jan Hohn, Josh Blanc, Alex Chinn, Lisa Trnka, Denise Bauer, Emily Gregory, Sandra Shaughnessy, Sheryl VanderPol, Greg Meyer art Ardex tile & Stone, Stephanie and Jack Kaczrowski.
To become involved in Handmade Tile Association, contact us.
---
Encore Post of the Month
By Josh on Feb 02, 2015
We are recognizing our highest "Liked" post of the month on our Facebook page. Send us your best and see if you can win this most prestigious honor!
Guy Mitchell won for January. Check out more of his work click here
---
HTA Board Retirements
By Josh on Feb 02, 2015
Long time HTA Board members Norma Hanlon and Roger Mayland told the rest of the Board that they would not be returning for the coming year at the last Board meeting in November.
Norma has been a Board member since the inception of the HTA, back in 1999. Norma is a life-long artist who started creating tiles back in the late 1990s. She and her daughter, Kirsten, formed Fresh Fish Tiles, later changing the name to SoMi Tileworks. Norma recently retired from SoMi but still makes art and travels the world. Norma had been the coordinator of the MN Tile Festival for the first few years of the event and helped out through almost the entire run of the MN Tile Festival. She came back to be the coordinator during the later years, as well. Norma's knowledge, energy and dedication to the organization has been amazing. We could not have done all of our work without her. If you have a moment, please drop her a note to thank her for everything she has done to promote and strengthen the Handmade Tile Association.
Roger Mayland has been a Board member since 2005. He owns and runs North Prairie Tileworks. Roger's marketing knowledge and dedication to the group has been invaluable [Roger Mayland] . He has opened up his studio for meetings many times, donated displays for trade shows and has been on the Tile Festival Committee.

Thank you both for all of your hard work and dedication!
We have had some great HTA Board members over the years and we will be recruiting new Board members for next year's Board.
If you have interest, please contact us for more information.
---
Handmade Tile Association November 2013 Newsletter
By Josh on Oct 01, 2013
Click here to read Handmade Tile Association November 2013 Newsletter
In this issue
​Last meeting of the year recap
MN Original Features HTA Artists
---
Minnesota Tile Festival recap 2013
By Josh on Oct 01, 2013
Click here to read the Minnesota Tile Festival recap 2013
In this issue
​Thanks to our Volunteers and Committee
Results of all data collected
Pictures of the day
Next Meeting October 16th
---
Spotlight on Artists of the Handmade Tile Association January 2014
By Josh on Oct 01, 2013
Spotlight on Artists January 2014 This month B.A. Schmidt, Mosaic Tileworks, Bon Ton Designs are featured from around the country with images of their work and articles on thier newest work and behind the scenes info on how they create their tile work. Click here to read and see their work.
---
Spotlight on Artists of the Handmade Tile Association September 2013
By Josh on Sep 15, 2013
Click here to read the Spotlight on Artists of the Handmade Tile Association September 2013
Featuring
Dean Tile & Design
Elfstone Studio
Stephanie Kazrowski
---
Handmade Tile Association September 2013 Newsletter
By Josh on Sep 01, 2013
Click here to read the Handmade Tile Association September 2013 Newsletter
The 12th Annual Minnesota Tile Festival is almost here!
Volunteers Needed
You are invited! Tile Artist Public Art Dedication
---
Spotlight on Artists of the Handmade Tile Association August 2013
By Josh on Aug 15, 2013
Click here to read the Spotlight on Artists of the Handmade Tile Association August 2013
Featured
Mercury Mosaics
North Prairie Tileworks
Weaver Tile
---
Handmade Tile Association August 2013 Newsletter
By Josh on Aug 01, 2013
Click here to read the Handmade Tile Association August 2013 Newsletter
The past month has been a very turbulent month of stress and worry about the status of the MN Tile Festival
---
Spotlight on Artists of the Handmade Tile Association July 2013
By Josh on Jul 15, 2013
Click here to read the July Spotlight on Artists
Read about
Suzanne Crane Fine Stoneware
Untapped Resources
Stone Hollow Tile
---
Handmade Tile Association July 2013 Newsletter
By Josh on Jul 01, 2013
Click Here to read the Handmade Tile Association July 2013 Newsletter
Tile artists and Fashion Artists Play Date
Artists who have Registered for the MN Tile Festival
​Midwest Home & Holiday Show Opportunity
---
Spotlight on Artists of the Handmade Tile Association June 2013
By Josh on Jun 01, 2013
Click here to read the June Spotlight on Artists
Deb LeAir
Pasadena Craftsman Tile
Clay Squared to Infinity
---
Handmade Tile Association June 2013 Newsletter
By Josh on Jun 01, 2013
Click here to read the newsletter
Read about
Tile artists and Fashion Artists Unite
HTA artist wins Monrovia Gold Line Station
Roosevelt Library Chooses Handmade Tile Association Artist Sheryl Tuorila
---