News
Tile Person of the Year Winner!
By Josh on May 19, 2015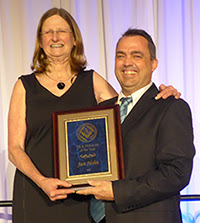 Handmade Tile Association Board Member, and amazing tile contractor, Jan Hohn was recognized nationally for her work at Coverings this past month. The National Tile Contractors Association (NTCA), the world's largest tile contractor association, recognized industry leaders at its Third Annual Awards Ceremony during Coverings 2015 at the Orange County Convention Center in Orlando, Florida.
The NTCA'S 2014 Tile Person of the Year Award was presented to Jan Hohn of Hohn & Hohn in St. Paul, Minnesota. Hohn is the third woman to receive this award during the six decades it has been presented. For more than 20 years, Hohn has worked as a one-person, high-end residential tile and stone installation company.
Congratulations Jan! We all knew you were amazing. Now the whole tile world knows it! Thank you, Eric, for your long term efforts on behalf of the tile industry!
---